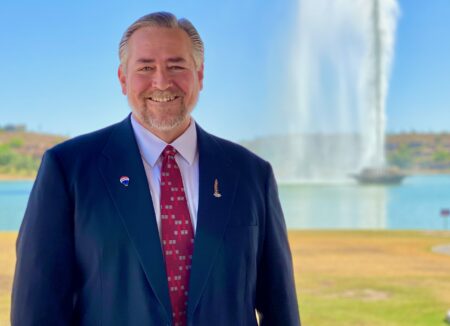 Jay Schlum
former Mayor of Fountain Hills Arizona
Realtor®, ACP, CLHMS, GRI, RPAC, RPAC MAJOR INVESTORS
SA117644000
Jay T. Schlum was Mayor of Fountain Hills from 2008-2012 and previously served as a Fountain Hills Councilman from 2004-2008. He has been a licensed Realtor® since 1992. Jay is one of the most respected professionals and community leaders in the area and in addition to being an Elected Official Jay has volunteered and served as:
2018 Business Person of the Year, Fountain Hills, Arizona
Board Member Scottsdale Area Assoc of Realtors SAAR
Executive Committee Member Arizona Assoc of Realtors®
Board Member Greater Phoenix Economic Council GPEC
Church President, Shepherd of the Hills Lutheran
President Four Peaks Rotary Club and many other committees

             
Originally from West Bloomfield Michigan, Jay's parents John & Dawn Schlum moved the family to Fountain Hills in 1977. Jay was 12 years old and loved riding his dirt bike with friends all over Fountain Hills in the early days. The Schlum's were early day Real Estate pioneers and Jay followed in his parents real estate footsteps. In college at Northern Arizona University Jay met Denise and in 1987 they were married at the Fountain Hills Presbyterian Church. Now they have two adult children, daughter Carly who serves as a medic in the United States Air Force stationed in Italy and son Tim who is attending college on a Tennis Scholarship.
Jay Schlum's Current Listings